Issa, Antonia (June 16, 2022)
Kelly, Kevin (April 21, 2022)
Topic: "A Four-SeasonGarden: Secrets for Success"
Does your garden look good for a few months, only to disappoint you during the dog days of summer or through the dreary, cold days of winter? We joined Kevin Kelly for a visual tour of his suburban garden through each of the seasons. He showed how he use a varied collection of plants to create year-round interest and excitement.
Below is a list of plants that were shown during the presentation.
Lewis, Noah (June 16, 2022)
GREY WATER GARDENING 
Noah is one of the recipients of the Lynn Valley Garden Club awards at the Greater Vancouver Science Fair. 
For more information about his project click here.
The Greater Vancouver Regional Science Fair (GVRSF) is the regional science fair for 10 school districts in the Lower Mainland area. It is open to students from grades 7 to 12 attending public, independent, private and home schools. The GVRSF is a registered charity and non-profit organization run by a diverse group of dedicated volunteers passionate about education in Science, Technology, Engineering, Arts and Mathematics (STEAM). 
The GVRSF's mission is to encourage youth to conduct research and experimentation in the areas of science, technology, engineering, arts, and mathematics. 
The Fair 
Encourages 100,000+ youth in our region to conduct creative inquiry-based projects
Hosts 300+ students who are keen and invested in today's scientific and technological developments
Provides $45,000+ in cash, prizes, trips and scholarship awards
Awards top projects the Grand Award of progressing to the Canada-Wide Science Fair
Offers various student and educator workshops, research lab tours, and fun student activities
Maplewood Flats Tour (July 9, 2022)
List of some of the plants discussed during the tour:
Yellow Dock (in the genus Rumex)
Leaves can be used for a salve on the skin
Cleavers (Galium aparine)
Flowers in the spring
The abrasive parts of the plant were rubbed between the hands to remove pitch
A caffeine-free coffee substitute can be made from the dried and roasted nutlets
Twinberry (Lonicera involucrata)
Good for pollinators
Excellent for hummingbirds
Birds eat the berries
Leaves and bark can be used to treat sore muscles (in a bath)
Good for natural dyeing
Osoberry (Oemleria cerasiformis)
Makes a richly flavoured jelly
One of the first plants to flower - good for hummingbirds returning from migration
Can be eaten when dark purple but the raw fruit tastes bitter
Dioecious plant - male and female flowers are on separate shrubs
Western Yarrow (Achillea millefolium)
A tea can be made

 

from the flowers to treat coughs and colds
Can be used as a wound poultice
Its primary use since ancient times is for blood clotting
Red Clover (Trifolium pratense)
Good for wildlife
Dried flowers can be used for tea that may treat bronchial problems and whooping cough
Immune boosting
Nootka rose (Rosa nutkana)
Attracts butterflies
Blooms in June and July
Hips are ready in January/February and can be used to make tea, jam and sauce.

 

High in vitamin C
Petals have some vitamin C and can be used in tea and baking
Salmonberry (Rubus spectabilis)
Attracts hummingbirds and butterflies
Flowers throughout spring
From June to August produces a raspberry like yellow orange to dark red edible fruit
Key ancestral food - berry cake
Always found 0.5 km from some form of water source
Bottom two leaves on the plant look like a butterfly
Long leaf plantain (Plantago lanceolata)
Golden dye can be made by boiling the whole plant and letting the water sit for 24 hours
Leaves can be used to stop blood flow from cuts and wounds

 
Ocean spray (Holodiscus discolor)
Great for pollinators, small birds and frogs
Wood from the stem was used to make tools and arrows
Roots can be used to make a mild tea
Oregon grape (Mahonia aquifolium)
Berries are edible but sour
Bark can be used for dyeing
Wild ginger (Asarum caudatum)
Scented plants can be put in bathwater
Roots can be boiled and drunk as a tea yo ease stomach problems
Roots can be cleaned and eaten raw or used as a ginger substitute.
Miskelly, Kristen (February 17, 2022)
Subject: Turn Your Lawn into a Native Plant Meadow
Kristen Miskelly is co-owner of Satinflower Nurseries (previously Saanich Native Plants), a native plant, native seed, and consulting business  on Southern Vancouver Island.  She is passionate about conservation, ecosystem restoration,  native plants, and native plant propagation. She is a biologist with specialty in the botany and ecology of southeastern Vancouver Island.  Among other projects, she helps coordinate the Haliburton Biodiversity Project and is on the Steering Committee for the Cascadia Prairie Oak Partnership. She teaches a variety of workshops and courses and is a sessional lecturer at the University of Victoria teaching 'Ecosystem Design through Propagation of Native Plants' and 'Urban Restoration and Sustainable Agricultural Systems.'
Reasons to plant a meadow:
Help conserve/restore biological diversity (plants, wildlife etc.)
Promote respect for the unique habitats of where you live
Promote respect for Indigenous Peoples, culture, food systems, plants and wildlife relatives, respect for the stewardship and management over thousands of years
Increase effective size of surrounding habitats
Learn about nature
Benefit future generations
Reduce water usage, fertilizers, chemical pesticides, power mowers (noise, fuel, pollution)
Provide the best nutrition for wildlife like birds, butterflies, bees and the insects.
A plant list of all the plants presented can be found here
Mulvihill, Susan (January 20, 2022)
Subject: Vegetable Garden Pests,
Susan Mulvihill is passionate about growing vegetables! She is the longtime garden columnist for the Sunday edition of The Spokesman-Review in Spokane, Wash., and has been a Spokane County Master Gardener since 2002. Her popular new book, The Vegetable Garden Pest Handbook, was published in April 2021. Susan is also the co-author of the Northwest Gardener's Handbook. She has created and hosted over 300 how-to-garden videos, which can be found on her YouTube channel, Susan's in the Garden. Susan is also a member of the professional organization, Garden Communicators International. She and her husband, Bill, live on 5 acres, where they grow all sorts of edible crops in their large raised-bed garden. In 2017, and again in 2021, their garden was featured on the popular public television program, "Growing a Greener World" (episode 809 and 1202), hosted by Joe Lamp'l. Her website can be found at SusansintheGarden.com and contains resources for organic pest control along with many other guides designed to help gardeners be successful at gardening. In her "Vegetable Garden Pests" presentation, Susan will discuss cultural practices to keep plants healthy and better able to withstand pest problems, how to identify the bugs you encounter in your garden, and profile some commonly-found insects and strategies for dealing with them.
Susan's handout for her presentation can be viewed and downloaded below.
Author of "The Vegetable Garden Pest Handbook" (Cool Springs Press,2021)
Co-author of "Northwest Gardener's Handbook" (Cool Springs Press)
Garden columnist, The Spokesman-Review
Spokane County Master Gardener
Member, Garden Communicators International
Shoroplova, Nina (May 19, 2022)
Topic: Legacy of Trees: Purposeful Wandering in Vancouver's Stanley Park
Nina Shoroplova is a tree enthusiast, historian, researcher, and author. Born and raised in Wales, she immigrated to Canada in 1969 and settled for a time at the Douglas Lake Ranch, the subject of her first book, Cattle Ranch: The Story of the Douglas Lake Cattle Company. She has since self-published three books on inspirational themes, and was a contributor to the 2019 anthology The Group of Seven Reimagined: Contemporary Stories Inspired by Historic Canadian Paintings. Nina holds a bachelor's degree in communications from SFU and is a trained vocalist and lifelong performer in choirs and community theatre. A professional member of the Canadian Authors Association and a member of the Stanley Park Ecology Society, she spends her days writing her own books, editing the books of others, and taking photographs of trees and plants in every season.
Legacy of Trees: Purposeful Wandering in Vancouver's Stanley Park can be found in the North Vancouver District Public Library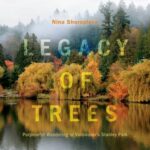 Valana, Maria (March 17, 2022)
Maria Valana
Maria Valana is a Horticulture Instructor at Kwantlen Polytechnic University (KPU). She holds the Bachelor of Applied Science Degree from Olds College and the Provincial Instructor Diploma from Vancouver Community College.   Maria enjoys sharing her passion for horticulture by providing horticulture education to like-minded individuals.  Plant propagation is one of her favourite subjects.  In her presentation Maria will discuss plant division of a variety of plants, highlighting the correct timing and step-by-step procedure.
Topic: Plant Division
Reasons for dividing:
To make more plants
To rejuvenate a plant
To keep plants healthy
To contain plants in a certain area
To save money on plants
Plants should be divided within a year of spotting these symptoms:
Centre die-out/Doughnut growth: ornamental grasses and some perennials such as Monarda become more vigorous in the perimeter than the centre
Small/few blooms: if plant is growing in good soil this is a distress symptom
Sparse regrowth: fewer stems than normal when growing in good soil
Taking over the neighbourhood: vigorous plants that encroach on walkways, patios and other plants
Timing:
Best when the plant is not actively growing or is dormant
Spring is ideal - plants recover quickly from the stress of division because the ground is moist and the temperature is not high yet
Plants that form the following year's flower buds mid summer should be divided in late summer or early fall
Avoid summer - plants will wilt and scorch in the hot sun
Digging plants out:
Thoroughly water plant 12-24 hours before digging out
Dig on a cool morning
Dig with a fork or spade
Sink the spade or fork to its full depth working around the outside of the drip line of the plant's foliage
The roots must stay cool and moist until the plant is replanted - place in a shady location and cover with moistened burlap if not ready to divide or replant
Replant in a well prepared soil with well-aged manure or compost or in a pot with a potting mix
Dividing Clumping plants:
Lift the mother plant
Look for growth buds on the crown
Divide into good-sized pieces with healthy roots and top growth with a spade or sharp knife
Each ice should have a t least 4 buds or growing points
Replant in a specific are or pot.
Dividing Suckers:
Suckers form at nodes along a plant's underground stems
By removing suckers you create a new individual, get rid of an invader and have plants to share and sell
Examples: raspberries, forsythias, lilac etc…
Dividing plants with fleshy or woody crowns:
Look for growth buds and divide the crowns so they include at least 3 or 4 growth buds
Sharp tools are imperative for cutting through fleshy or woody crowns
Ex: Cannas, astilbes, dallies, peonies, hostas
Dividing plants with rhizomes:
Wait until the plant has finished blooming
Divide every 3 to 5 years
Divide when the flowering decreases, flower size diminishes or it just looks crowded
Ex: bearded irises, bergenias, wood lilies

 
Dividing plants with tubers:
Tubers are swollen underground stems
Tubers can't survive a winter in freezing soil
Dig up tubers at the end of summer and store them in a dark area at 4℃
Divide before planting in the spring and ensure that each tuber has at least one eye
Ex: Dahlias, calla lilies, ranunculus
Dividing plants with offsets:
Offsets are young plants that form at the crown or stolon of a parent plant
They take water and nutrients form the parent plant until they are safely rooted
They should not be divided until they have a well developed root system
Ex: Agaves, aloe, banana, strawberries, sago palm, hens and chicks
Plants with adventitious roots:
Plants creep on the ground and the stems touching the soil root in the ground
Rooted stems can be cut from the mother plant and replanted

 
Bulb division:
Bulbs are underground storage structures holding nutrients
It is best to divide them when the foliage is almost all dead and the plant is no longer actively growing
They create new bulbs called bulbets
The bulblets will eventually enlarge to the same size as the original bulb and split off
Dig a few inches away form the plant to ensure that the bulbs don't get damaged and loose the soil around the bulbs to prevent scarping
Carefully pull small bulbs from the base of the plant
Plant back at a adequate depth
Provide adequate spacing to allow for growth in the years to come
Can be planted in holding beds then moved once they have matured
Bulblets can also be sorted in dry peat moss and placed in a cool, dry and dark spot until the fall
Ex: lilies, tulips, daffodils, snowdrops
Layering outdoors:
Bend a stem and peg it to the ground
Cover with a mound of peat and grit
Attach to a bamboo cane to sind which stem is layered
Air layering:
Wound the stem
Apply rooting hormones
Pack with moist moss
Wrap with plastic, tie each end
Wrap with foil
Make sure the moss does not dry out
Girdling:
Is another method of air layering involving the removal of the epidermis almost all the way around the stem