January 18, 2018 – Tickets required
Presentation Subject: Great British Gardens.
Keynote speaker – Howard Wills of Fernwood Nursery, England. This nursery is located in Devon England, website http://www.fernwood-nursery.co.uk/
Presenter Biography, in his own words:
I am a life-long gardening enthusiast (plantaholic!) with many years of experience of growing a wide range of plants. I run a small nursery specialising in Sempervivums (Houseleeks) and related plants.
At Fernwood, I hold N.C.C.P.G. (Plant Heritage) National Collections® of Sempervivum and Jovibarba species and cultivars (Alpine Houseleeks) and previously, National Collections® of Phormium species and cultivars (New Zealand Flax) and Rosularia species.
I have exhibited these plants at all the major Royal Horticultural Society Flower Shows and the exhibits have been awarded RHS Gold Medals at Chelsea Flower Show, Hampton Court Palace, Gardener's World Live, Tatton Park, Malvern and RHS Wisley Flower Shows.
The nursery is managed in an environmentally sensitive way and I am also very keen on watching, recording and studying our native fauna and flora. I also enjoy visiting gardens and natural environments both in the UK and in other parts of the world.
 Great Britain has a large number of wonderful gardens showing an incredible range of plants and a fascinating diversity of gardening styles.
In this talk I describe a varied selection of British gardens that are, or have been, open to the public and which I have particularly enjoyed visiting, including some Scottish and Welsh gardens as well as those in England.
February 15, 2018
JULIA COMMON // BSc and MSc Agriculture // Hives for Humanity Co-Founder & Chief Beekeeper
 Julia Common is a Master Beekeeper who has been keeping bees since her university days. What started as a summer job has become a life-long passion which has deepened since co-founding the non-profit organization Hives for Humanity with her daughter in 2012. Hives for Humanity started with a single hive in a community garden in the Vancouver's Downtown Eastside, and has grown to include 250+ colonies throughout Metro Vancouver. Julia believes in the therapeutic power of the bees, and in their ability to connect all people to nature, community and self. In her capacity as Chief Beekeeper and co-founder of Hives for Humanity she has a story to share.
Learn more: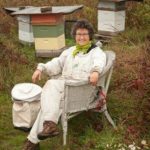 March 15, 2018
Speaker:  Erika Simms, customer service representative, West Coast Seeds
Topic:      Growing from Seed
Erika has loved food and gardening from a young age, and has spent many years working as a chef always focusing on fresh, organic and local ingredients. She has worked in the food security sector,  taught gardening workshops, and developed a community seed library.
This presentation includes:
·         A brief history and values of West Coast seeds
·         Equipment and items needed for seed starting
·         Easy how to instructions on starting vegetables, herbs and flowers from seed.
.