March 16, 2017
Photographing Alpine Plants: A Landscape Point of View
David Sellars is an award winning photographer and is the Past President of the Alpine Garden Club of British Columbia.  Together with his wife, Wendy, he is developing an extensive alpine and woodland garden in coastal British Columbia. Their garden won the NARGS Millstream Garden Award in 2012.
https://nargs.org/private-gallery/david-and-wendy-sellars-millstream-rock-and-alpine-garden
He is an avid mountain hiker and maintains the website: http://www.mountainflora.ca
His particular interests are rock garden design and construction, alpine plant photography and using video to illustrate mountain landscapes and alpine plant habitats. His video page is here: http://www.youtube.com/user/MountainFlora
He has written articles on rock garden design and alpine plant explorations for the NARGS Rock Garden Quarterly, the International Rock Gardener, and the Saxifrage Magazine. A selection of his photographs were published in the recent book Alpine Plants of British Columbia, Alberta and Northwest North America. His images will also be included in a new edition of Arthur Kruckeberg's Gardening with Native Plants of the Pacific Northwest. 
April 20, 2017
Egan Davis - Reducing water use and increasing urban ecology
Egan Davis is currently the Chief Instructor, Horticultural Training Program (HTP) from UBC Botanical Garden.  The HTP is the only full-time horticulture training program in Metro Vancouver north of the Fraser River. UBC Botanical Garden provides a rich training environment for the program. Instruction is fully integrated with horticultural activities in the Garden and garden staff participate in training and mentoring.
Egan worked at Park and Tilford garden many years ago under the direction of Todd Major.  Egan previously spoke to the Lynn Valley Garden Club in February 2005 on 'Spring Gardening' and again in November 2014.
Congratulations to Egan Davis, 2016 recipient of the BC Landscape & Nursery Association's Educator of the Year.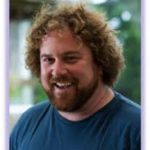 May 18, 2017
Trevor Turner - Water conservation, drip irrigation